Canelé Pendant Shade
A collaboration with Berdoulat.
Our fine bone china pendant, designed in collaboration with Patrick and Neri Williams from Berdoulat. Inspired by antique French glass shades, it is perfectly at home in Berdoulat in Bath, the old general store that has been beautifully restored by Patrick and Neri. The shade takes full advantage of the wonderful qualities of bone china – bright white, opaque and glossy by day, and glowing from within by night. It is cast more finely than our usual wares to ensure the light glows from within, and shares the characteristic wobbly profile of our main collection.
It is a tactile delight, with hand-painted accents both on the top of the frill and around the base, to allow it to be hung high or low. We think they look wonderful in sequence above a table. 
Fully glazed, to be used with a flex and lamp holder of your choice. The shades are available in three colourways when it comes to the colour of the hand-painted detailing: Cobalt, Geranium and 24 carat Gold. Designed to fit a standard lampholder (approx. 40mm diameter). 
Measurements approx. h. 60mm, d. 230mm at base, 60mm at tip
Opening d. 40mm 
Handmade in fine bone china in our Devon studios
Fully glazed with hand-painted detailing
Ceiling Rose available here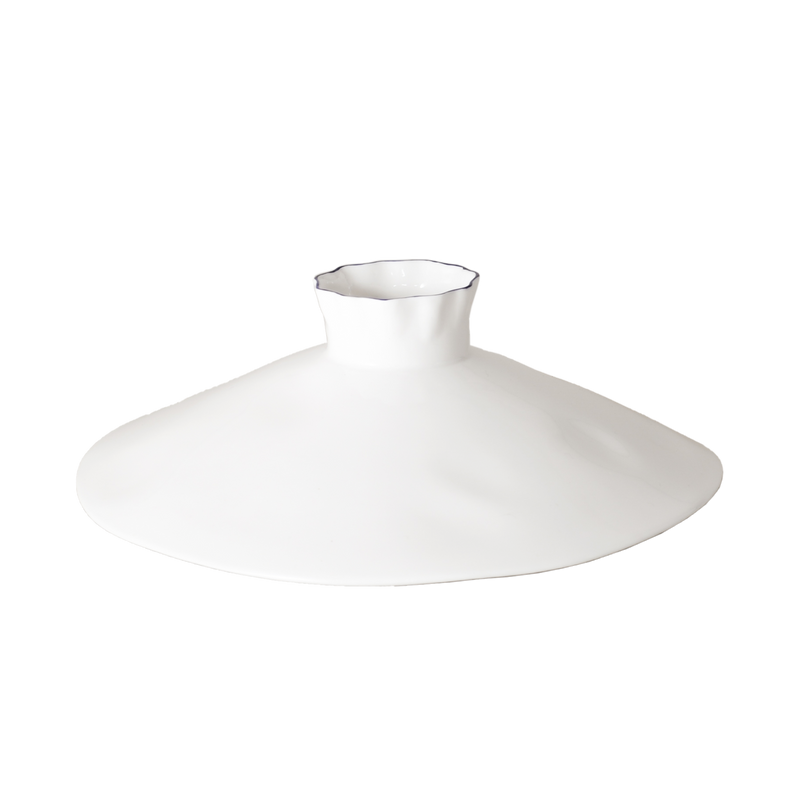 ---
---
Other objects similar to
the Canelé Pendant Shade